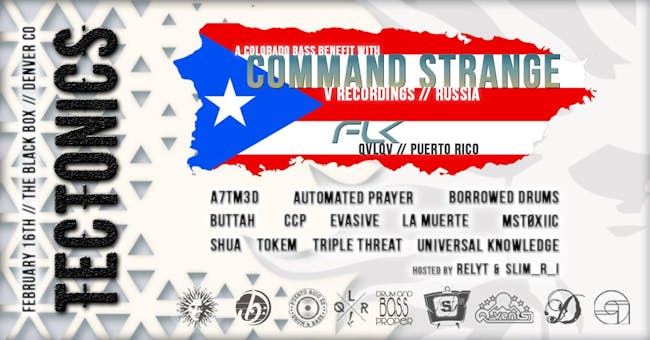 The Black Box (The Lounge)
Tectonics - A Bass Benefit
$0.00
Sales Ended
On DONATIONS AT THE DOOR
Denver's home for the Underground.
#TECTONICS 02.16.20
A Bass Benefit for PR!!!
The Black Box Lounge
Denver Co.
A massive collective of like minded Colorado bass junkies are coming together to help raise funds towards much needed relief for our fellow citizens in Puerto Rico. Please come join our efforts!!
#PRsupport2020 #303supports787
Massive collectives union for 🇵🇷 !
--
FREE EVENT // DONATIONS ACCEPTED
Monetary donations accepted at the door
Donated items also being collected (please see list of accepted items below)
100% of proceeds going to PR relief efforts
Doors open at 5pm
Early arrival recommended.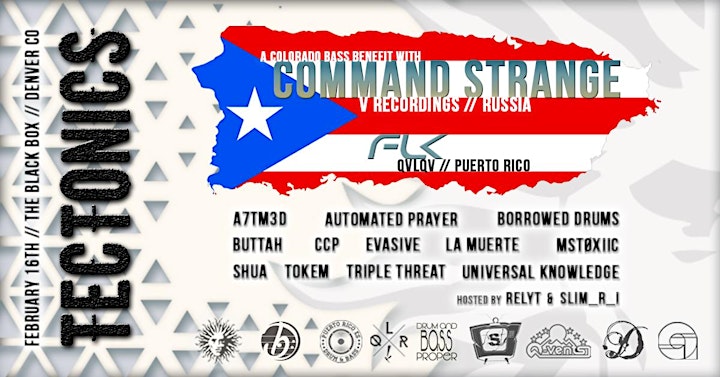 Venue Information:
The Black Box (The Lounge)
314 E. 13th Ave.
Denver, CO, 80203